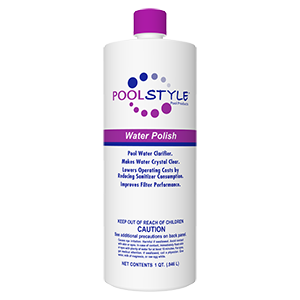 Water Polish
Super-concentrated fast-acting water clarifier. Clears cloudy water by collecting small particles that are unable to be filtered into larger filterable
Highly concentrated clarifier
Clears dull and cloudy water
Enhances filter efficiency
Also effective in salt pools
Compatible with all types of pool water sanitizers
Available in 1 quart bottle.
---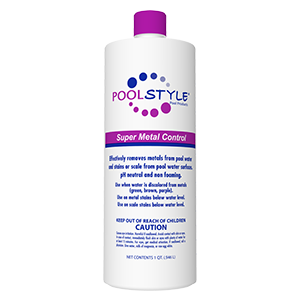 Super Metal Control
Inhibit and prevent scale formation from excessive calcium and staining from iron, copper and manganese.
Use to prevent copper, iron, and manganese stains
Use to remove green and brown tinted water caused by metals
Aids in removal of fresh metal stains from pool surfaces
Available in 1 quart bottle.
---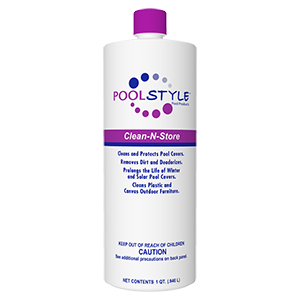 Clean-N-Store
Clean-N-Store cleans, protects, and deodorizes solar and winter pools covers while removing dirt, grease, oil, and grime.
Concentrated formula removes dirt and prevents unpleasant odors with fresh lemon scent
Protects pool covers from deterioration and sticking together during storage
Prolongs useful life of solar and winter pool covers
May be used to clean plastic or canvas outdoor furniture, boat covers, umbrellas, and other vinyl and canvas poolside accessories.
Available in 1 quart bottle.
---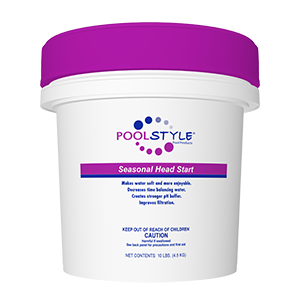 Seasonal Head Start
Enhances water quality by improving filtration and controlling algae.
Promotes sparkling, clear water
Reduces eye and skin irritation for swimmer comfort
Provides long-lasting algae suppression
Used at the beginning of each season
Available in various sizes.