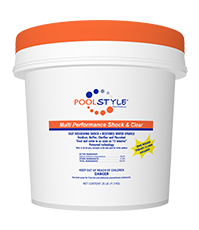 Multi Performance Shock & Clear
58.2% sodium dichloro-s-triazinetrione
A multi-functional shock for sanitizing, clarifying, and preventing algae.
Fast Dissolving Shock
Restores Water Sparkle
Oxidizer, Buffer, Clarifier and Flocculant
Treat and swim in as soon as 15 minutes after use
Patented technology
Available in various sizes.
---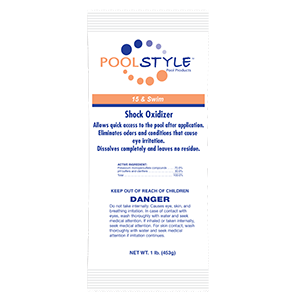 15 & Swim
70% Potassium monopersulfate compounds
30% pH buffers and clarifiers
Offers the advantage of superior oxidizing for sparling clear water and lets you resume swimming just 15 minutes after it's use. It is non-chlorine, non-bleaching, pH neutral and safe to use in all pool types. Not for use in biguanide-treated pools.
Allows quick access to the pool after application
Eliminates odors and conditions that cause eye irritation
Dissolves completely and leaves no residue
Available in various sizes.
(N/A in California)
---
What is Shocking the Pool?
Watch the answer!
When is the Best Time to Shock Your Pool?
Watch the answer!